Signature Series Scribex Signature Pad
product discontinued January 2003.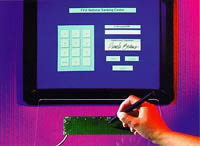 Features • Applications • Specifications • Documentation • Support
Designed for integration into demanding kiosk applications, Scribex provides the high-resolution signature input needed for public-access signature capture and signature verification. The Scribex pad can be integrated into most non-conductive materials such as plastic, lexan, wood, or glass. The signature pad will electrically project through up to 1/4" of material. It allows the kiosk developer to define an ergonomically correct, aesthetically pleasing signature input surface for electronic signature capture. The system uses a separate battery-powered, long-life pen, tethered to the kiosk.
Features
High resolution signature with 410 lines per inch horizontal and vertical. Provides smooth bitmaps and resolution required for signature verification.
High data sampling rate, 377 data points per second. High data capture for signature verification.
Durable electrostatic, long-life stylus. High durability in public-access environments. Not subject to cord damage. Rated to 250,000 signatures before replacement.
Sensor board easily integrated into a kiosk with a projection through 1/4" of non-ferrous material. Gives the developer the flexibility to create ergonomically correct signature input that fits the kiosk look and design.
The board communicates via an RS-232 serial port to driver objects that are built into the host application. Scribex is powered from the host port.
Scribex works through paper. Signatures can be captured both electronically and in hard copy. Elo provides an ink cartridge for hard-copy receipts.
Scribex only responds to the stylus. This provides full palm rejection.
Applications
Scribex gives the developer the flexibility to create an ergonomically correct signature input pad built into a non-ferrous portion of the kiosk. The Scribex pad is a durable circuit board and pen application that works on electrostatic principles to input signatures electronically. The pen is a robust, battery-powered device rated for 250,000 signatures before replacement. Signature capture data rates and resolution are high enough to support signature verification software packages and capture a signature bitmap. Communication is via RS-232, with the device powered from the host serial port.
Retail transaction kiosks
Employment application kiosks
Government service kiosks
Merchandise pickup kiosks
Financial kiosks and super ATM's
Specifications
| | |
| --- | --- |
| Resolution | 410 lines/inch horizontal and vertical |
| Sample Rate | 377 points per second |
| MTBF | 1,000,000 hours |
| Communications | RS-232, 19200 baud, DB9 connection |
| Pen life | 250,000 signatures |
| Temperature | Operating: 0°C to 50°C |
| Relative Humidity | Operating: 10 to 90%, noncondensing |
| Kit Part # | 918365-000 |
Documentation
Support